Emblematic Brazilian drink, the cachaca or cachace is mainly known as an ingredient of caipirinha, a cocktail made with lime. However, Cachaca is not just limited to the confection of cocktails, it is also an alcohol appreciated by chefs and sommeliers in gastronomic restaurants who propose it to their customers on the wine list of their restaurants. Chefs also include Cachaca as an ingredient in the dishes served on their menu. Cachaca's popularity is not only limited to Brazilian starred gastronomic restaurants, as most of the well-known tables of the haute gastronomic include it on their wine list.
Bestwine • Online gives you the opportunity to discover the references and brands of Cachacas recommended by chefs and sommeliers in starred gastronomic restaurants worldwide. Bottles of cachacas which appear on the wine list of the most prestigious names in gastronomic cuisine. You can therefore find the greatest cachaca and buy a bottle at the best price via Bestwine • Online.

Find the best Cachacas
Discover the Cachacas chosen by the chefs and sommeliers of Michelin starred restaurants. A selection made by trustworthy and legitimate professionals to help you find your favourite Cachacas.

Buy the best Cachacas
We will indicate the best offers and promotions online. You can buy the best Cachaca thanks to a reliable and impartial reference list.
Best Cachacas
With Bestwine • Online, the best reference list of Cachaca:
Find one of the best Cachacas.
Offer an exceptional bottle of Cachaca.
Enrich your bar or wine cellar with a prestigious Cachaca.
Discover the starred gastronomic restaurants where drink the best Cachaca.
Benefit from gastronomic professionnal's advices to select your Cachaca brand or bottle.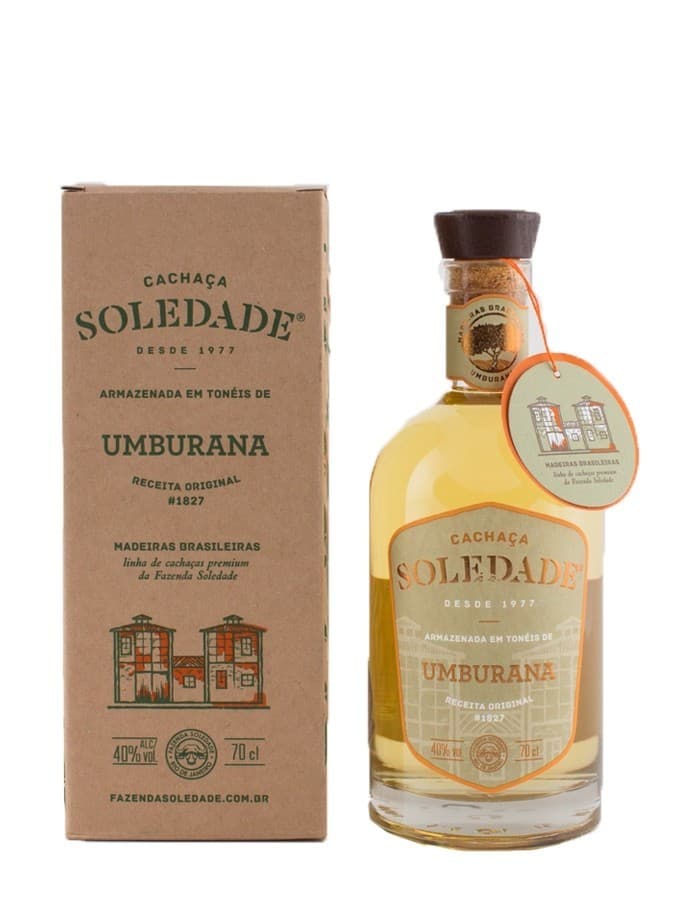 Soledade Umburana Cachaca
---
Cachaca origin : Brasil
Alcohol degree : 40°
Best Cachaca Brands
Refer to Chief's, Sommelier's, Bartender's from gastronomic restaurants of all around the world's opinion to discover the best Cachaca's brands and best references. A ranking and comparative of the best Cachaca's brands by the Chief's, Sommelier's and Bartender's from the top gastronomic experts.
| Cachaca Brand | Cachaca origin | Cachaca vintage | Alcohol degree | Restaurant |
| --- | --- | --- | --- | --- |
| Soledade Umburana Cachaca | Brasil | No | 40° | |
| Engenho Da Vertente Cachaca | Brasil – Sao Paulo | No | 42° | |
| Abehla Cachaca | Brasil | 3 years | 39° | ⭐⭐⭐ – Core by Clare Smith – United Kingdom |
| Leblon Cachaca | Brasil – Leblon | 2 years | 45° | |
| Sagatiba Cachaca | Brasil | No | 38° | ⭐⭐⭐ – La Prieuré – France |
The best cachacas on the wine list of gastronomic restaurants
Top Cachaca according to chefs and sommeliers of gastronomic restaurants
Cachaca is a spirit appreciated for its authentic taste by chefs and sommeliers of gastronomic restaurants.
These professionals select the greatest references and brands to add to their wine list and offer to their clients. To select the best brands and bottles of cachaca, chefs and sommeliers of gastronomic restaurants regularly taste new bottles, which they compare and judge so that only the greatest references are included on their menu.
Some chefs and sommeliers are even prepared to visit the producers of Cachaca. Gastronomy, like Cachaca, is above all about women and men. Each bottle of cachaca produced, has its origins in the producers and the different professionals who intervene in growing the sugar cane, producing the spirit, bottling and selling it. Brazil has 16 000 producers of Cachaca, and it exports to 80 countries all over the world.
An alcoholic drink, which is classified as a spirit, Cachaca is like Rhum, a white alcohol produced from Vesou. Vesou is a liquid which comes from sugar cane.
Cachaca is a white alcohol consumed originally by agricultural workers in 18th Century Brazil.
At this time, the slave trade existed in Brazil and the slaves drank "garapa" which was obtained from the juice of sugar cane after pressing it. The juice was then boiled. Garapa did not contain much alcohol because the sugar cane was not fermented. Over the years, the fermentation of sugar cane developed so that it became a fully-fledged alcohol, Cachaca popular with the Brazilian farmers.
Cachaca has a high level of alcohol as its volume of alcohol is generally situated between 40 and 50%, it is rarely a vintage. However, certain excellent cachacas have a maturation period which can last several years.
Cachaca can have a different names according to the Brazilian province in which it is consumed or produced. In Brazil, Cachaca can be called Oleo, Gas, Caninha, Birita, Branquinha, Aguardente de cana (which means sugar cane brandy) or Pinga (which means schnapps). It must be underlined that Cachaca contributed to the development of the Brazilian economy and culture as it is considered as a typically Brazilian product.
Brands of Cachaca
There are over 5 000 brands of cachaca. They are not, of course, of the same quality a some are cheaper and others more upmarket.
Bestwine • Online helps you to discover the best brands in cachacas. Brands that are well-known and recognized by chefs and sommeliers of starred gastronomic restaurants. The greatest brands of Cachaca are logically localised in Brazil, where it originates from. In Brazil "houses" produce traditional Cachaca with ancestral methods, tools and recipes. Cachaca is also produced industrially through firms and factories.
Amongst the most popular brands of cachaca in Brazil and the rest of the world: The Sapucaia Cachaca, the Aguacana Cachaca, the Velho Barreiro Cachaca, the Pitu Cachaca or the Cachaca 51.
You will find some of these brands on the reference list of the best Cachacas served in starred gastronomic restaurants. However, or aim is to offer the most exhaustive list of the greatest Cachacas. This list is regularly renewed. When the wine list of starred gastronomic restaurants is updated or when new restaurants are awarded a prize, we make sure that these newly promoted brands of Cachacas are included in the list.
Consumption of Cachaca
Like Rhum, Cachaca is a sweet alcohol, and its high volume of alcohol tends to mask this aspect. Cachaca can have different pronounced aromas according to the producer's recipe. A characteristic of Cachaca is the grilled flavour it releases, along with a certain sweetness and an aroma of polished wax, despite its high rate of alcohol.
Cachaca is a spirit which is used in numerous cocktails. However, the Caipirinha cocktail which includes Cachaca made from sugar cane, brown sugar and crushed ice is the most popular composition of Cachaca. Cachaca can also be found in other cocktails like Batidas or Fortalezas for example.
For purists, Cachaca is drunk without any other ingredients and in this case, it can be consumed at room temperature or chilled.
A good Cachaca has a syrupy aspect which shows its strong concentration in sugar. Its taste is structured and balanced leaving an aftertaste of ashy aromas. Each consumer might prefer one brand of Cachaca to another.
Different types of Cachaca possess their own characteristics according to their method of production, this allows each person to find his favourite Cachaca. This exotic alcohol has a unique flavour and taste. To find the best Cachaca it is better to have a selection of several references to be able to compare them. No one can designate a Cachaca reference as being the greatest, even though it is easy to read comparators and classifications of the best Cachacas on the market. No professional, sommelier, expert, Cachaca producer or amateur can elect a unique Cachaca reference as the best. On the one hand, there are several brands and references of Cachaca and on the other, each upmarket Cachaca has its own character. Atypical visual, aromatic and flavoursome qualities. Cachaca is an alcoholic drink that can be compared to the Brazilian land from which it originates.
Each Brazilian province has its own Cachaca, which are all different like the places they come from. Choose your own favourite Cachaca based on legitimate professional advice on a good bottle of Cachaca.
Bestwine • Online is not a classification or comparator of the best Cachacas. Bestwine • Online only publishes Cachacas recommended by chefs and sommeliers in starred gastronomic restaurants. We suggest good Cachacas chosen by professionals of haute cuisine so that you may be inspired when choosing your bottle. Take advantage of the competence of chefs and sommeliers in starred gastronomic restaurants to taste the best quality Cachaca. Make the most of the high standards of gastronomic cuisine to select an upmarket brand of Cachaca.
The difference between Cachaca and Rhum
The difference between Cachaca and Rum lies in the way the Vesou (juice of sugar cane) is used to produce this spirit:
Cachaca is produced from fresh sugar cane juice to which grilled cereals like wheat or rice are added along with yeast.
Rum is produced from heated Vesou to which only yeast is added.
The processing of the Vesou influences the elaborated distillate which explains the difference between Cachaca and Rhum.
Authentic Cachacas comparison and ranking to choose
Time needed: 5 minutes.
Choose the best cachaca for you:
Pick your cachaca according to your preferences (name, brand name, origin, vintage, or age of tequila, price, type of cachaca…)
Class the cachacas according to your choice
Select your cachaca reference
Buy online the best cachaca at the best price
Savour the best cachaca
For a good inexpensive Cachaca
The top of the range Cachacas selection
How are cachacas selected on Bestwine • Online?
Bestwine • Online references the cachacas from the wine list and wine cellar of the most well-known gastronomic restaurants in the world. References recommended by the chefs and sommeliers acclaimed by the critics. Only the references of cachacas sold online are proposed, to enable you to buy them easily.
How are the reference lists of the best cachacas updated?
The reference lists of cachacas are updated daily by incorporating the new references from the wine menus of gastronomic restaurants at our disposal. In the same way, we renew our offers and promotions so that you may buy the best quality cachaca at the best price. We promise to only propose references on the wine list of prize-winning gastronomic restaurants.
Why choose a reference of cachaca via Bestwine • Online?
The chefs and sommeliers of gastronomic restaurants are the guarantees of gastronomic excellence by offering the best products, food and drink in their restaurants. Naturally, chefs and wine waiters of these great restaurants only propose the finest cachacas.
Why buy your cachacas through Bestwine • Online?
Bestwine • Online, commits itself to referencing the best cachacas and to guiding you to the most attractive offers online in order to buy them at the best price. A good tip for cachacas at a real bargain!