A liqueur made with apples, Manzana is an alcoholic drink served in the greatest gastronomic restaurants in the world. Barmen, sommeliers, and chefs in starred gastronomic restaurants offer Manzana to their customers. Obviously, these professionals of high-quality gastronomy only serve the highest quality Manzana. Like the customers in these starred gastronomic restaurants, take advantage of the knowledge of barmen, chefs, and sommeliers in starred gastronomic restaurants to choose and taste the best Manzanas on the market.

Find the best Manzanas
Discover the Manzanas chosen by the chefs and sommeliers of Michelin starred restaurants. A selection made by trustworthy and legitimate professionals to help you find your favourite Manzana.

Buy the best Manzanas
We will indicate the best offers and promotions online. You can buy the best Manzana thanks to a reliable and impartial reference list.
Best Manzanas
With Bestwine • Online, the best reference list of Manzanas:
Find one of the best Manzanas.
Offer an exceptional bottle of Manzanas.
Enrich your bar or wine cellar with a prestigious Manzanas.
Discover the starred gastronomic restaurants where drink the best Manzanas.
Benefit from gastronomic professionnal's advices to select your Manzana brand or bottle.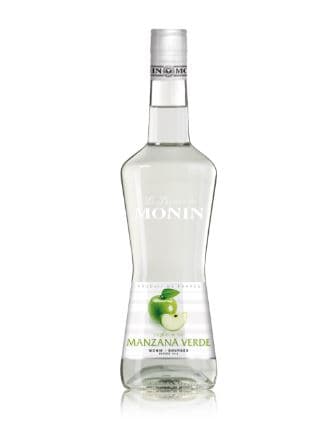 Monin Manzana
---
Origin : France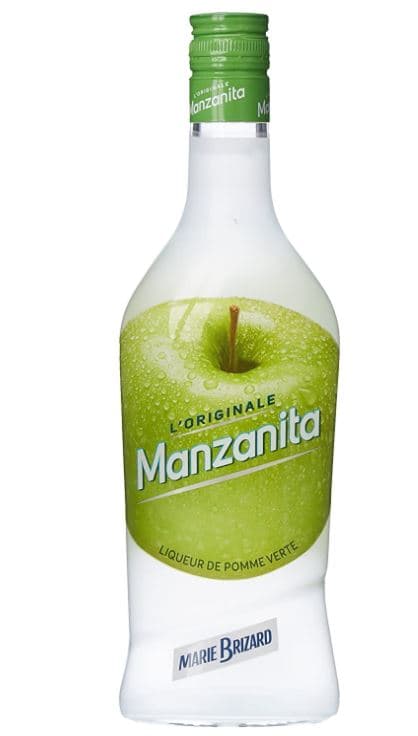 Marie Brizard Manzanita
---
Origin : France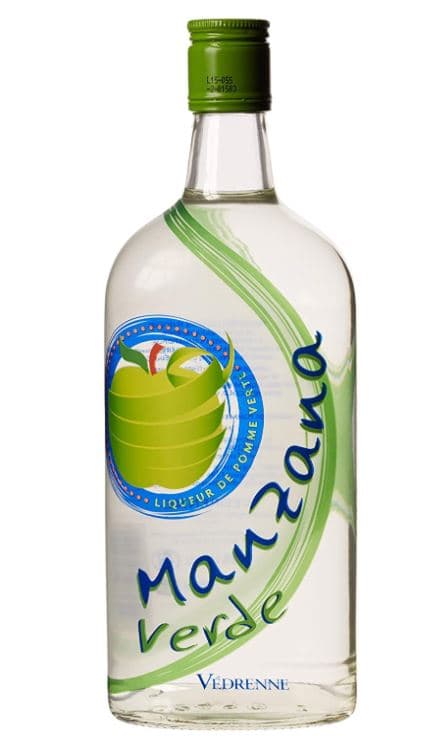 Védrenne Manzana Verde
---
Origin : France
Best Manzana's brands
Refer to Chief's, Sommelier's, Bartender's from gastronomic restaurants of all around the world's opinion to discover the best Manzana's brands and best references. A ranking and comparative of the best Manzana's brands by the Chief's, Sommelier's and Bartender's from the top gastronomic experts.
| Manzana Reference | Manzana Brand | Origin | Alcohol Degree |
| --- | --- | --- | --- |
| Manzana Verde | Monin | France | 20° |
| Manzanita | Marie Brizard | France | 18° |
| Manzana Verde | Védrenne | France | 18° |
The best Manzanas on the wine list of gastronomic restaurants.
Manzana
Manzana is a liqueur made with apples that comes from the Basque country. Manzana maybe called Manzanita or Manza Verde. The word "Manzana" means apple in Spanish, the word "Manzanita" means little apple, and the word "Manza Verde" means green apple. Manzana is made by macerating apples in Eau de Vie. Most of the time green apples are used to produce Manzana. The alcohol in the Eau de Vie allows the apple to diffuse its essences. The mixture of apple and Eau de Vie is then conserved several weeks for its flavours to develop. When the maceration of the apples with the Eau de Vie is finished, sugar is added to the mixture which is then distilled once to obtain Manzana. Manzana is distilled in a copper still. This distillation increases the volume of alcohol in the drink. Manzana has an alcohol content of around 15°-20°. As it is a liqueur, it contains 100 grammes of sugar per litre.
The word Manzana is used nowadays to designate liqueurs made with apples. A bottle of Manzana may not carry the name "Manzana" but if it is an apple liqueur it is a Manzana. Some brands only mention "apple liqueur" on the label of their bottles, so it is important to know that all apple liqueurs are Manzanas and all Manzana are apple liqueurs.
As a liqueur there are no vintage bottles of Manzana, with some exceptions
Manzana in starred gastronomic restaurants
Manzana has existed for over a century. It is a liqueur which was originally made and consumed in the Basque Country. Manzana can therefore be considered as a Spanish liqueur even though its origins and identity are in the Basque region. As indicated by its name, Manzana is mainly produced and consumed in the Spanish Basque Country and exceptionally in the French Basque Country. Apples are a commonly grown fruit in the Basque Country. Furthermore, certain Manzanas are produced with Basque varieties of apples like Mamula, Ondomotxa, Gordin Xuria, Etzika, Anisa, Peatxa, or Eri Sagarra.
Manzana has a crystal-clear appearance and possesses a syrupy aspect. On the palate, Manzana has a very fruity flowery bouquet. Manzana is a sweet slightly acidic alcohol with a hint of bitterness. The flavours produced by the apples can differ according to the brands and references of Manzana. As each Manzana producer has a different recipe and produces Manzana with different varieties of apples.
Manzana can be served as an aperitif or a liqueur. As it is a liqueur, Manzana is better consumed at the end of a meal. Manzana is savoured neat and chilled, straight out of the fridge, or with ice cubes.
Manzana is an ideal accompaniment for a desert, being a liqueur, it is sweet and therefore goes well with sugary deserts. Manzana is perfect with apple deserts like apple pie.
Some barmen in starred gastronomic restaurants compose cocktails with Manzana. Amongst the most popular cocktails with Manzana is the Manzana tonic, which is, as its name suggests, a mixture of Manzana and tonic served chilled.
As for Chefs in starred gastronomic restaurants, Manzana is sometimes used to flavour their deserts such as jam, cakes, fruit salads or chocolates filled with liqueur.
Manzana can be found on the wine list of many gastronomic restaurants. Starred gastronomic restaurants which serve Basque or Spanish food often propose Manzana on their wine list. Manzana is not only on the wine list of Spanish and Basque starred gastronomic restaurants, as many other names in high quality gastronomy also offer this liqueur. Manzana, an emblem of the Basque Country, is one of the original and indispensable liqueurs of the "terroir".
Brands of Manzana
There are several brands of Manzana. Originally, Manzana was a hand-crafted liqueur made in Spanish farms by the farmer who cultivated the apples. There are still a lot of brands which produce hand-crafted Manzana and bottle, cork and label this alcoholic drink. A large number of starred gastronomic restaurants reference hand-crafted Manzanas.
Although Manzana is a Spanish liqueur, there are several brands from other countries. Manzana does not have a legal denomination nor a designation of origin. The word Manzana is a generic term which does not have a label. So, there are as many brands of Spanish Manzana as French, or other nationalities who produce and sell liqueurs under the name of Manzana. Manzana remains an alcohol which does not need a specific variety of apple nor a particular recipe. Furthermore, it is easy to produce.
Brands of Manzana: Bardinet, Briottet, Cherry Rocher, Cristal Liminana, Ederki, Giffard, Jacquiot, Jean Gauthier, Luna Verde, Marie Brizard, Monin, Porthos, Scherer, Védrenne, Wolfberger, Zarracina.
Some brands of Manzana only make Manzana and other brands make other types of alcohol.
Manzana is a popular, reasonably priced alcohol; the best bottles do not exceed two figures.
Bestwine • Online's choice of Manzana
Discover the most reliable choices in Manzana thanks to the experience and talent of chefs, sommeliers, and barmen in starred gastronomic restaurants. Access suggestions from professionals who work each day with the best food and the finest wines. Chefs, barmen and sommeliers in starred gastronomic restaurants do not hesitate to look for the most upmarket Manzanas. They taste and share their opinions in order to select the best Manzanas. The selection made by chefs and sommeliers in starred gastronomic restaurants is also a choice of Manzana for its history and terroir. The history of the Manzana producers and the history of an unusual liqueur.
Bestwine • Online's reference list of the best Manzanas is simply a suggestion, it is neither a classification nor a comparison of the best Manzanas. Each Manzana has its own particular flavour, so, you need to taste them to find the one that suits you!
The top of the range Manzana's selection
How are Manzanas selected on Bestwine • Online?
Bestwine • Online references the Manzanas from the wine list and wine cellar of the most well-known gastronomic restaurants in the world. References recommended by the chefs and sommeliers acclaimed by the critics. Only the references of Manzanas sold online are proposed, to enable you to buy them easily.
How are the reference lists of the best Manzanas updated?
The reference lists of Manzanas are updated daily by incorporating the new references from the wine menus of gastronomic restaurants at our disposal. In the same way, we renew our offers and promotions so that you may buy the best quality Manzanas at the best price. We promise to only propose references on the wine list of prize-winning gastronomic restaurants.
Why choose a reference of Manzanas via Bestwine • Online?
The chefs and sommeliers of gastronomic restaurants are the guarantees of gastronomic excellence by offering the best products, food and drink in their restaurants. Naturally, chefs and wine waiters of these great restaurants only propose the finest Manzanas.
Why buy your Manzanas through Bestwine • Online?
Bestwine • Online, commits itself to referencing the best Manzanas and to guiding you to the most attractive offers online in order to buy them at the best price. A good tip for Manzanas at a real bargain!
Authentic Manzana's comparison and ranking to choose
Time needed: 5 minutes
Choose and buy one of the best Manzanas at the best price:
Select one or several criteria of selection for your Manzana according to your preferences.
Class the Manzana according to your choices.
Select your Manzana reference.
Buy online one of the best Manzanas at the best price.