Native of Scandinavian countries, which include Norway, Sweden, Denmark and Iceland, Aquavit is a spirit which is appreciated all over the world and included in a number of starred gastronomic restaurants' wine lists. This unusual alcohol, made from plants, is not only valued by chefs, sommeliers, and barmen in starred gastronomic restaurants, it is also prized by their epicurean clientele. Discover the brands of Aquavit suggested by chefs, sommeliers, and barmen and referenced on the wine menu of the most famous names in gastronomy.

Find the best Aquavits
Discover the aquavits chosen by the chefs and sommeliers of Michelin starred restaurants. A selection made by trustworthy and legitimate professionals to help you find your favourite aquavit.

Buy the best aquavits
We will indicate the best offers and promotions online. You can buy the best aquavit thanks to a reliable and impartial reference list.
Best Aquavits
With Bestwine • Online, the best reference list of aquavits:
Find one of the best aquavits.
Offer an exceptional bottle of aquavits.
Enrich your bar or wine cellar with a prestigious aquavits.
Discover the starred gastronomic restaurants where drink the best aquavits.
Benefit from gastronomic professionnal's advices to select your aquavit brand or bottle.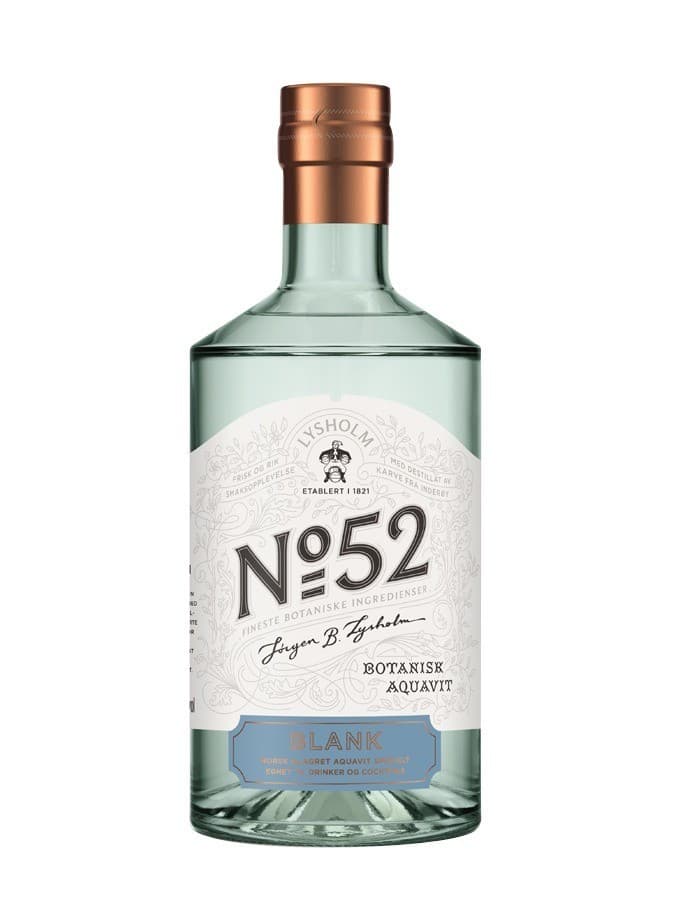 Lysholm Aquavit
---
Origin : Norway
Alcohol Degree : 40°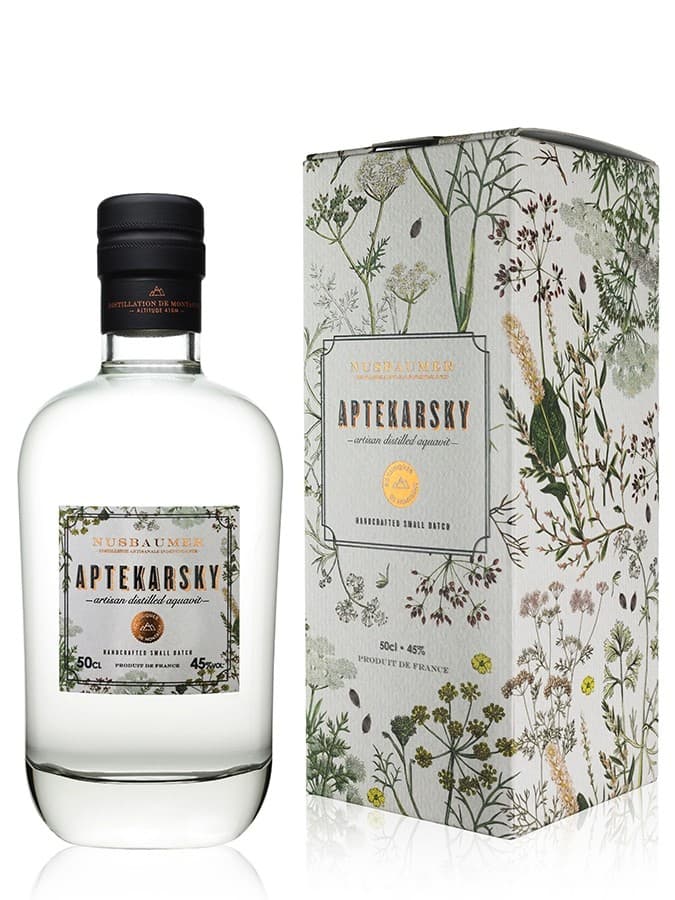 Aptekarsky Aquavit
---
Origin : France
Alcohol Degree : 45°
Best Aquavit's brands
Refer to Chief's, Sommelier's, Bartender's from gastronomic restaurants of all around the world's opinion to discover the best Aquavit's brands and best references. A ranking and comparative of the best Aquavit's brands by the Chief's, Sommelier's and Bartender's from the top gastronomic experts.
| Aquavit Brand | Origin | Alcohol Degree |
| --- | --- | --- |
| Aalborg | Denmark | 45° |
| Linie | Norway | 41,5° |
| Akevitt | Norway | 43° |
| Lysholm | Norway | 40° |
| Aptekarsky | France | 45° |
The best aquavits on the wine list of gastronomic restaurants.
Aquavit
Aquavit is defined as a spirit whose main ingredient is grains or potatoes. It is then flavoured with herbs and plants. It can be enhanced with different flavourings like aniseed, caraway seeds, cumin, bitter orange, coriander, dill, or fennel. Aquavit may also be enriched with spices like cinnamon, it has an alcohol content of around 40 to 50%.
The production of Aquavit goes back several centuries. The first documents referring to its original production were dated 1531 and found in Norway. Aquavit is one of the oldest spirits in the world. The word "water of life" comes from the Latin "aqua vitae". Aquavit has been derived from this Latin word and means "water which gives life".
The production of Aquavit requires several stages. First of all, the production of a neutral spirit made from cereals or potatoes. These ingredients are distilled in a still to obtain an alcoholic drink. Then it is distilled a second time, this time with plants and a distillate of herbs and spices. Finally, the Aquavit is aged for several weeks, months or even several years for some bottles. Aquavit is rarely vintage, although there are some aged bottles. The ageing of Aquavit in wooden casks gives it an oxidised colour and flavour.
The consumption of Aquavit
Aquavit has a specific visual aspect; it can be slightly yellow or brown in colour or it can be translucent. The colour of Aquavit depends on the amount of time it has been aged or the quantity of plants and herbs added to the spirit.
Aquavit is similar to Gin, which is also made from alcohol and a plant, the juniper berry.
Aquavit varies in taste according to the country in which it is made. Culturally, Denmark produces visually pale Aquavit with herby flavours. Danish Aquavit has mainly dill and cumin flavours, whereas Norwegian Aquavit is more complex, as it is generally aged longer than Danish or Swedish Aquavits. Swedish Aquavits possess more simple aromas like aniseed.
Aquavit is one or the rare spirits to be consumed with a main course. It makes an ideal accompaniment to fish such as salmon, halibut, trout, and herring. Aquavit can also accompany sushi. It may be consumed as an aperitif or a liqueur and can be savoured at room temperature or chilled. Aquavit can also be used to make cocktails.
Popular in the Scandinavian Countries, Aquavit is one of the most consumed spirits in Sweden, Norway, Iceland, and Denmark. It is a very reasonably priced drink as it is rarely higher than around ten euros for the best bottles.
The brands of Aquavit
Aquavit it mainly produced in the Scandinavian countries. The countries with the highest consumption are Sweden, Iceland, Denmark, and Norway, but also Germany, the United States and Canada. The main Aquavit producers can be found in these countries and each producer has his own recipe.
There is a European regulation which defines Aquavit. Aquavit is described as an alcoholic drink made with alcohol from agricultural origin, distilled with caraway seeds and/or dill and flavoured with a distillate of herbs and spices. Apart from caraway seeds and dill, the spices used are comprised (amongst others) of aniseed and coriander. Each producer and each brand of Aquavit can therefore incorporate their own ingredients; however, they must respect the rules in order to put the label Aquavit on their bottles. Different brands of Aquavit produce beverages which may have a very different flavour. In fact, there are a multitude of plants, herbs and spices which can be used to produce Aquavit. Logically, the recipes of each brand of Aquavit are different.
The best producers of Aquavit are found in Scandinavia. Each country has its own references. You may find the brands Gilde and Loiten's Linie in Norway. In Denmark the Aquavit Aalborg is the most famous and O.P. Anderson is the most well known in Sweden. If each brand of Aquavit has its own distinctive flavour whatever its origin, it is the Norwegian Aquavit which has the most flavour and colour. It is interesting to note that Norwegian Aquavit is made almost exclusively with potatoes. On the other hand, Danish Aquavit is mainly made from cereals. The majority of brands which produce Aquavit are found in the Scandinavian countries: Sweden, Iceland, Denmark, and Norway, however, more original brands of American Aquavit (Venus, Long Road, Gamle Ode and North Shore) and Canadian ( Sherinam, Langbord, Aquavitus and Long Table) also exist. Aquavit is indeed a popular alcoholic drink in North America.
There are three brands of French Aquavit: Aptekarsky, Bittermens and Distillerie de Paris.
There are several brands of Aquavit: Aalborg, Aptekarsky, O.P. Anderson, Akevitt, Aquavitus, Artic Velvet, Bittermens, Dal Spirit, Distillerie de Paris, Gammel Opland, Hven, Krogstad, Langbord, Linie, Lisholm, Loiten, Long Road, Long Table, Malmo, Maskdrangens, Niel Juel, Nordik, North Shore, Rasmus, Regnig Dag, Rod Spelt, Skagerrac, Sheringham, Solstandet, Venus and Viti.
Authentic Aquavit's comparison and ranking to choose
Time needed: 5 minutes
Choose and buy one of the best aquavits at the best price:
Select one or several criteria of selection for your aquavit according to your preferences.
Class the aquavit according to your choices.
Select your aquavit reference.
Buy online one of the best aquavits at the best price.
The top of the range Aquavit's selection
How are aquavits selected on Bestwine • Online?
Bestwine • Online references the aquavits from the wine list and wine cellar of the most well-known gastronomic restaurants in the world. References recommended by the chefs and sommeliers acclaimed by the critics. Only the references of aquavits sold online are proposed, to enable you to buy them easily.
How are the reference lists of the best aquavits updated?
The reference lists of aquavits are updated daily by incorporating the new references from the wine menus of gastronomic restaurants at our disposal. In the same way, we renew our offers and promotions so that you may buy the best quality aquavit at the best price. We promise to only propose references on the wine list of prize-winning gastronomic restaurants.
Why choose a reference of aquavit via Bestwine • Online?
The chefs and sommeliers of gastronomic restaurants are the guarantees of gastronomic excellence by offering the best products, food and drink in their restaurants. Naturally, chefs and wine waiters of these great restaurants only propose the finest aquavits.
Why buy your aquavits through Bestwine • Online?
Bestwine • Online, commits itself to referencing the best aquavits and to guiding you to the most attractive offers online in order to buy them at the best price. A good tip for aquavits at a real bargain!