Eau de vie made with cherries, Kirsch is an alcoholic drink that is appreciated for its authentic flavour. Many chefs, sommeliers and barmen in gastronomic restaurants use or offer this alcohol to their customers. Discover a selection of the best Kirsch references advised by sommeliers and barmen in starred gastronomic restaurants. Bestwine • Online allows you to take advantage of the experience and talent of the greatest professionals in high quality gastronomy to choose the best in Kirsch.

Find the best Kirsch
Discover the kirsch chosen by the chefs and sommeliers of Michelin starred restaurants. A selection made by trustworthy and legitimate professionals to help you find your favourite kirsch.

Buy the best kirsch
We will indicate the best offers and promotions online. You can buy the best kirsch thanks to a reliable and impartial reference list.
Best Kirsch
With Bestwine • Online, the best reference list of Kirsch:
Find one of the best Kirsch.
Offer an exceptional bottle of Kirsch.
Enrich your bar or wine cellar with a prestigious Kirsch.
Discover the starred gastronomic restaurants where drink the best Kirsch.
Benefit from gastronomic professionnal's advices to select your Kirsch brand or bottle.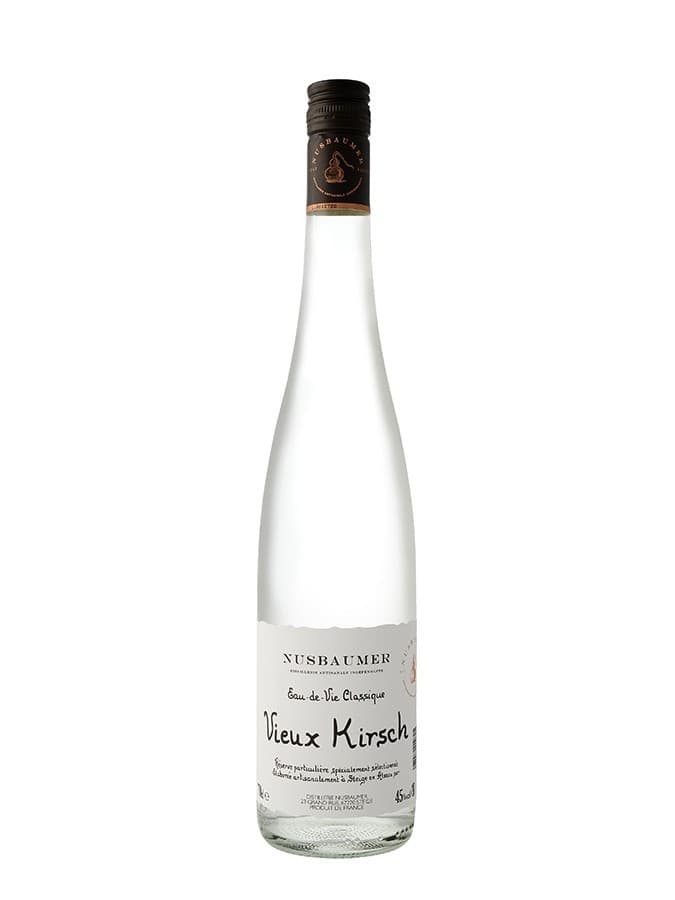 Nusbaumer Kirsch
---
Origin : France – Alsace
Best Kirsch brands
Refer to Chief's, Sommelier's, Bartender's from gastronomic restaurants of all around the world's opinion to discover the best Kirsch brands and best references. A ranking and comparative of the best Kirsch brands by the Chief's, Sommelier's and Bartender's from the top gastronomic experts.
| Kirsch Brand | Origin | Alcohol Degree |
| --- | --- | --- |
| Nusbaumer | France – Alsace | 45° |
The best Kirsch on the wine list of gastronomic restaurants.
Kirsch
Kirsch is defined as: an Eau de Vie of Germanic origin produced with cherries. Kirsch may be considered as a variety of Schnapps (Eau de Vie made with fruit) as the majority of Schnapps are now made with fruit, however Kirsch is only made with cherries, notably black cherries with a big stone or wild cherries. To produce one litre of Kirsch requires 16 kilogrammes of cherries; the whole fruit is used including the flesh, the juice, and the stone. The alcohol content of Kirsch is on average between 40° and 60°. Authentic Kirsch does not have any added sugar and is not flavoured.
The name Kirsch comes from the German word "kirsche" which means "cherry". Kirsch is one of the oldest Eaux de Vie in the world. The first traces of Kirsch date back to the 18th Century. It is a traditional alcohol which is part of the French Alsatian and Franc-Comtois Cultures, just like the German Culture. Kirsch is mainly consumed in Germany, Eastern France, (Alsace, Franche-Comté, Lorraine, Pays de Savoie and Perigord), in Luxembourg, and in German speaking Belgium, and Switzerland.
Kirsch Production
To make Kirsch, cherries are put for several months into casks or barrels to ferment naturally and then this liquid is poured into a still to be distilled. Kirsch is obtained after a simple or double distillation for the best Kirsch. The double distillation allows the flavours to be amplified. To finish, water is generally added to the Kirsch to adjust its alcohol content and the mixture is left to rest for at least a year in barrels or directly in bottles. It is very rare to find vintage Kirsch.
There are two types of Kirsch protected by a controlled designation of origin (AOC):
Swiss Kirsch: Swiss Kirsch is protected by the controlled designation of origin Zuger Kirsch AOP and Rigi Kirsch AOP.
Le Kirsch de Fougerolles: le Kirsch de Fougerolles is the first Eau de Vie made with fruit to obtain an AOC in France. It is the fourth French Eau de Vie to receive a controlled designation of origin after Calvados, Cognac, and Armagnac. Le Kirsch de Fougerolles is kept in a "Bô Fougerollais" with a specific seal. The commune of Fougerolles is considered to be the capital of Kirsch in the world.
These designations regulate Kirsch recipes and the origin of the agricultural ingredients used to produce the drink.
The price of a good bottle of authentic Kirsch is several dozen Euros. Its price depends on the brand producing it, the recipe for its production and the ingredients used.
Consumption of Kirsch
An alcohol of the "terroir", Kirsch is a very fragrant, smooth, and delicate alcohol. It has a strong nose with a natural cherry flavour which is the only fruit used in its conception. Some Kirsch have almond aromas. Kirsch has a crystal clear and limpid appearance but some Kirsch show a purple tint which is due to the cherry skin.
Kirsch can be served as an aperitif or a liqueur. Purists prefer to drink it at room temperature or chilled. Many barmen use Kirsch in cocktail recipes like punch or Kirsch.
Some chefs in starred gastronomic restaurants use Kirsch to create new recipes. Kirsch is often used by chefs who are known to work with German or Alsatian dishes. It may notably be used to make fondues, sauerkraut, or duck pâté.
Kirsch is ideal as an accompaniment for a dessert. Although Kirsch does not have any added sugar, its delicacy and flavour go perfectly well with sweet dishes.
There are a lot of desserts which use Kirsch as an ingredient, like custard, cakes, or ice creams. Kirsch is also an essential ingredient for a Black Forest Gateau or to soak the sponge of a strawberry cake. Kirsch may also be used in making cherry jam to increase the flavour of the fruit. In addition, Kirsch can be found in sweets, creams, fruit salad and to flame desserts.
Brands of Kirsch
Amongst the brands of Kirsch, there are Coulin, Ferme, Chassard, Peureux, Adam, André Blanck, Becht, Bertrand, Bleesz, Bollenger, Bott Frères, Briottet, Crozet, Devoille, Gauthier, Georges Descorse, Girardot, Hoeffler, Jacoulot ,Klipfel, Lehmann, Lorentz, Massenez, Quintessence, Scherer, Théo, Preiss, Wolberger.
Most brands of Kirsch are French, and a large number of them propose hand-crafted Kirsch. You will find these brands of Kirsch in a selection of Kirsch from chefs, sommeliers, and barmen in starred gastronomic restaurants.
As an alcoholic drink of the "terroir", Kirsch is not as popular as other Eaux de Vie, However, there are specialists and experts in Kirsch who advise chefs, sommeliers,and barmen to help them in their search for the best bottles.
Authentic Kirsch comparison and ranking to choose
Time needed: 5 minutes
Choose and buy one of the best Kirsch at the best price:
Select one or several criteria of selection for your kirsch according to your preferences.
Class the Kirsch according to your choices.
Select your Kirsch reference.
Buy online one of the best Kirsch at the best price.
The top of the range Kirsch selection
How are Kirsch selected on Bestwine • Online?
Bestwine • Online references the Kirsch from the wine list and wine cellar of the most well-known gastronomic restaurants in the world. References recommended by the chefs and sommeliers acclaimed by the critics. Only the references of Kirsch sold online are proposed, to enable you to buy them easily.
How are the reference lists of the best Kirsch updated?
The reference lists of kirsch are updated daily by incorporating the new references from the wine menus of gastronomic restaurants at our disposal. In the same way, we renew our offers and promotions so that you may buy the best quality Kirsch at the best price. We promise to only propose references on the wine list of prize-winning gastronomic restaurants.
Why choose a reference of Kirsch via Bestwine • Online?
The chefs and sommeliers of gastronomic restaurants are the guarantees of gastronomic excellence by offering the best products, food and drink in their restaurants. Naturally, chefs and wine waiters of these great restaurants only propose the finest Kirsch.
Why buy your Kirsch through Bestwine • Online?
Bestwine • Online, commits itself to referencing the best Kirsch and to guiding you to the most attractive offers online in order to buy them at the best price. A good tip for Kirsch at a real bargain!